FREE shipping when shopping over 2000 Kč
MOSER Genio Pro Fade
| | |
| --- | --- |
| Availability: | In stock |
| Code: | 1874-0053 |
| Manufacturer | MOSER |
| Suitable for: | professional use |
| Color: | black |
| Dimensions: | 180 x 47 x 42 mm |
| Weight: | 280 g |
| Clipping height: | 0,2 - 0,5 mm |
| Clipping width: | 40 mm |
| Battery life: | up to 120 minutes |
| Battery charging: | up to 90 minutes |
| Battery type: | Li-Ion |
The new top quality MOSER Genio Pro Fade cordless clipper in black with the Fading Blade I clipping blade with a clipping height of 0.5 - 2 mm and a width of 47 mm. Fast charging, powerful motor and two replaceable Li-ion batteries. The package contains a charging stand, charging adapter, 2 batteries, 4 additional plastic attachment combs, an oiler and a cleaning brush.
Read more
New cordless hair clipper Moser Genio Pro Fade with a spare battery
Moser Genio Pro Fade is a hot news in the best models of hair clippers from the world-famous German brand MOSER, which has been one of the best manufacturers of machines for more than 70 years. It is based on the older Moser Genio type, but brings a completely new ergonomic design and new Li-ion batteries .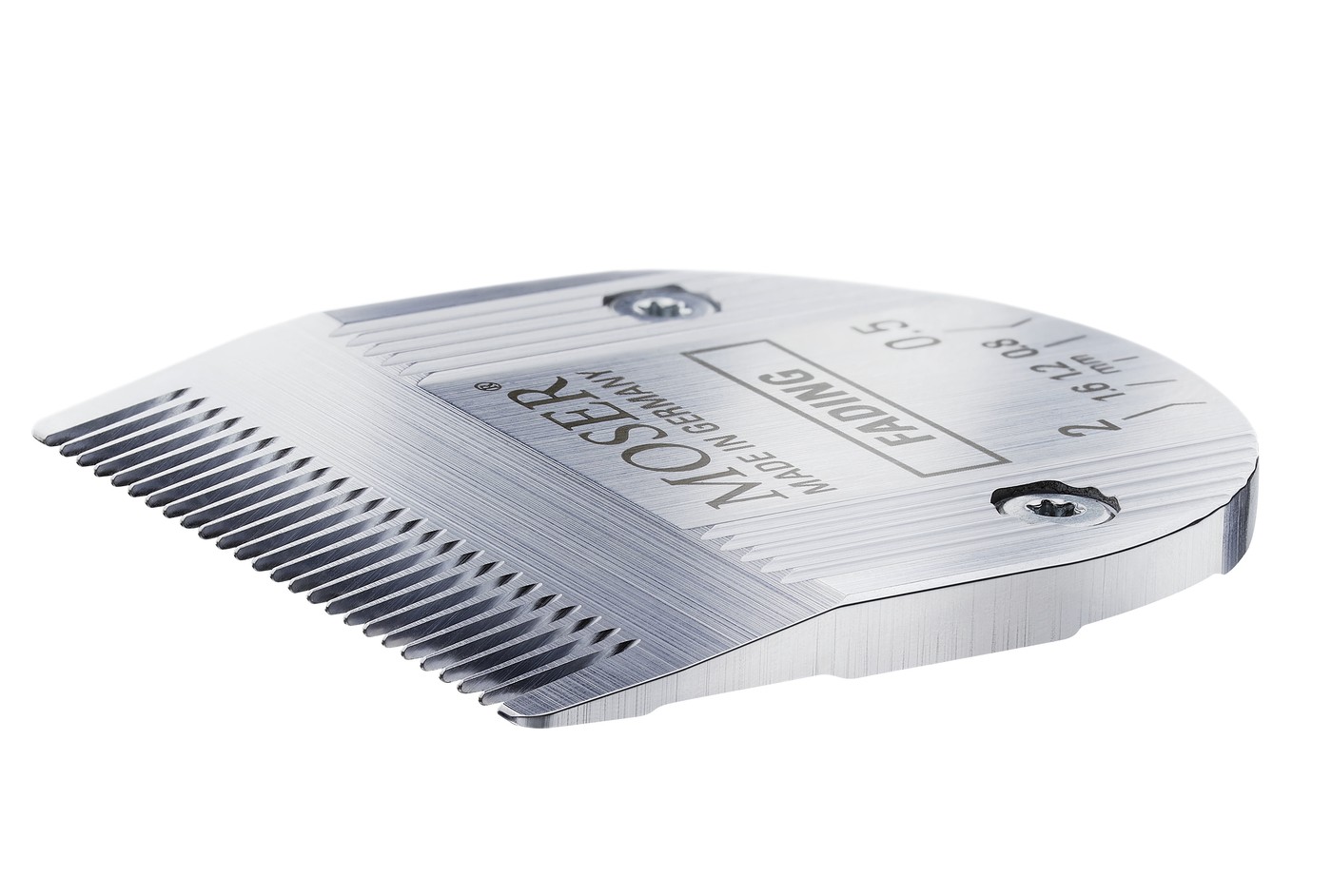 Moser Genio Pro Fade is equipped with a high-quality all-metal clipping blade "Fading Blade Made in Germany" with a clipping height adjustment of 0.5 - 2 mm. The clipping width is 47 mm and the clipping height can be adjusted from 0.5 mm to 2 mm . it can be folded down easily and quickly without unnecessary screwing - so you can keep the machine perfectly clean at all times.
The machine contains two improved XL Li-Ion batteries , which allow for very fast charging - only 80 minutes and up to 105 minutes wireless operation, moreover without memory effect. This will ensure continuous operation of the machine. The machine also has an LED Battery status control, which determines when the battery needs to be replaced.
The machine is powered by a very powerful and reliable DC motor with 5750 rpm. The machine also has a very low weight of 280 grams and very quiet operation. All this is manufactured in an elegant and above all ergonomic chassis with a modern and timeless design.
Accessories:
The package contains four plastic additional attachment combs 1.5, 3, 4.5, 6 mm, a charger and an elegant charging stand with an adapter and two replaceable Li-ion batteries . The set also includes a cleaning brush to remove hair residue and a basic mini oiler with mineral oil for the first few uses.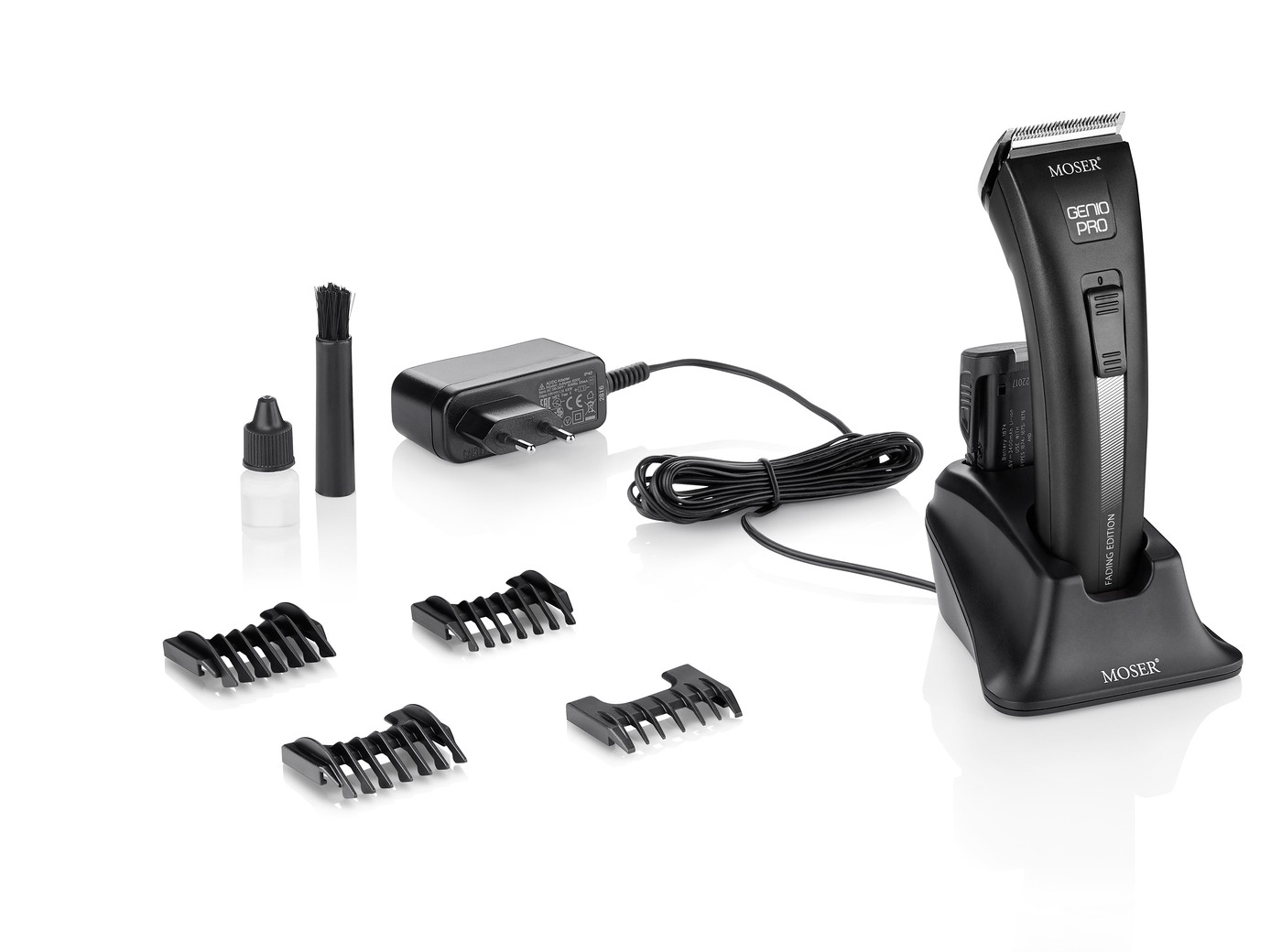 Key properties:
top Magic Blade clipping blade with adjustable cutting height from 0.5 to 2 mm and cutting width 47 mm
easily switchable blade for faster replacement and easier maintenance
Non-stop operation - two batteries with the latest lithium-ion technology with a life of 105 minutes and a charging time of only 80 minutes will ensure continuous operation
easy removal and change of the battery, 3x longer battery life and no memory effect
black color
powerful DC motor with 5750 rpm.
new, modern design that respects ergonomics
super light weight - only 280 g.
very quiet engine operation
LED that indicates when the batteries need to be replaced
dimensions: 180 x 47 x 42 mm
accessories: 2 li-ion batteries, charging stand, plastic additional combs 1.5, 3, 4.5, 6 mm, cleaning brush and oiler with special oil for cutting heads
Made in Germany
Barber's tip: "The Moser Genio Pro Fade is a new, top-of-the-line rechargeable machine, suitable for the Fade cut, which is an ideal choice for all professionals who require absolute reliability and continuous operation. If necessary, the blade can be professionally resharpened. If the blade heats up during longer operation, it is advisable to use a special cooling spray. "


Extended Warranty:
We know that the clipping machine is a key tool for your job. If you want to be sure that your machine will be taken care of even after the warranty expires, we offer you a new service - extension of the warranty for another 12 months. Just click "Extended warranty 1 year" on purchase
MOSER
Founded in 1946, the German company is currently one of world's most important manufacturers of hair clippers, dryers, curling irons and hair straighteners.
Since 1996 Moser has been a part of a multinational corporation WAHL Professional, thus belonging to a world's biggest producer of professional and home hair care.
Moser clippers are the most popular and best-selling products of its kind in the Czech republic.
What I want to cut
What I want to cut
Power supply
Machine focus