FREE shipping when shopping over 2000 Kč
MOSER 1245-0060 Class 45
| | |
| --- | --- |
| Availability: | In stock |
| Code: | 1245-0060 |
| Manufacturer | MOSER |
| Clipping height: | 1 mm |
| Clipping width: | 49 mm |
| Cable length | 3 m |
| Suitable for: | professional use |
| Color: | black |
| Dimensions: | |
| Weight: | 520 g |
Excellent professional and powerful clipper MOSER 1245-0060 Class 45 suitable for continuous operation. Clipping height 1 mm and width 49 mm. High power up to 45 W. The package contains an oiler and a cleaning brush.
Read more
Professional clipping machine MOSER 1245-0060 CLASS 45 - extremely robust for continuous operation.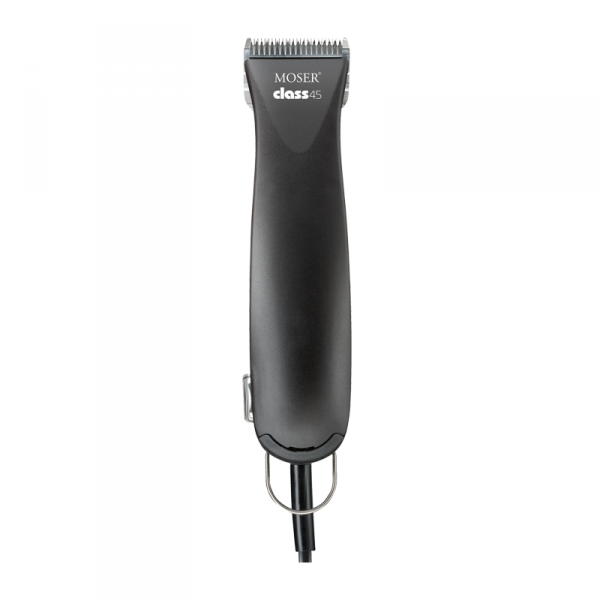 Are you thinking about a new corded clipper suitable for demanding operations? Class 45 from the world-famous German brand MOSER , which has been one of the best manufacturers of machines for more than 70 years, is the powerful and reliable helper you are looking for.

Moser Class 45 is equipped with a chrome-plated Star Blade clipping blade of high quality with a width of 49 mm made of hardened steel with an extremely long service life and a clipping height of 1 mm . The blade is easy and quick to replace thanks to the quick-release system with a locking button. The machine is powered by an extremely powerful 45 W motor with a choice between two gears (2400 rpm and 3000 rpm), which also has a special vibration damping system . The whole machine is ergonomically shaped with accurately distributed weight, so it's great to handle. Optimal cooling is ensured by an air filter that can be easily replaced and cleaned.
Accessories:
The package contains a thick cable with a length of 3 m , a cleaning brush to remove hair residue and a basic mini oiler with mineral oil for the first few uses.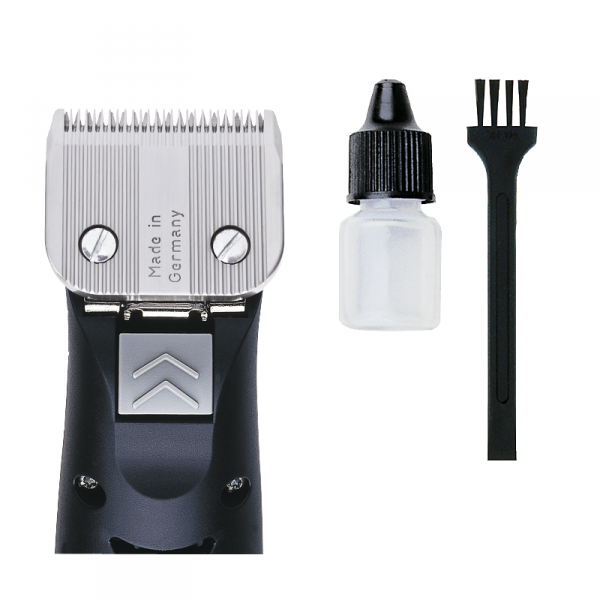 Key properties:
extremely powerful 45W, two-speed professional clipping machine of top quality with a system of switchable clipping blades
chrome-plated professional precision Star Blade 49 mm made of hardened steel with an extremely long service life, clipping heights 1 mm - easily replaceable thanks to the quick-release system with locking button
ergonomic shape and suitable weight distribution for optimal handling
high-performance, two-speed motor 2400 and 3000 rpm. with vibration damping of 45 W
optimal cooling and easy cleaning of the replaceable air filter
weight: 520 g
dimensions: 185x46x48 mm
accessories: 3 m cable, 1 mm clipping blade, oiler, cleaning brush
Made in Germany
additional clipping blades and attachment combs purchase optional - see the accessories card
Barber's tip: "Reliable and robust shaver with the widest head for the most demanding operations. High performance ensures that you can easily handle even the densest type of hair. In addition, it is possible to buy a large number of different blades and attachments. If necessary, this blade can be professionally resharpened. If the blade heats up during longer operation, it is advisable to use a special cooling spray. "


Extended Warranty:
We know that the shearing machine is a key tool for your job. If you want to be sure that your machine will be taken care of even after the warranty expires, we offer you a new service - extension of the warranty for another 12 months. Just click "Extended warranty 1 year" on purchase.
MOSER
Founded in 1946, the German company is currently one of world's most important manufacturers of hair clippers, dryers, curling irons and hair straighteners.
Since 1996 Moser has been a part of a multinational corporation WAHL Professional, thus belonging to a world's biggest producer of professional and home hair care.
Moser clippers are the most popular and best-selling products of its kind in the Czech republic.
What I want to cut
Power supply
Machine focus