KELLER Olive - bathroom set
2 087 Kč
1 983 Kč
(Discount: 5 % -104 Kč)
Our luxurious set of massage and wellness brushes for the bathroom in stylish olive wood from the German manufacturer KELLER. The set includes a bathroom brush with a long handle, a hand and nail brush and a massage brush with pegs.
Read more
High quality massage brush for the bathroom KELLER 180 25 02 - Exclusive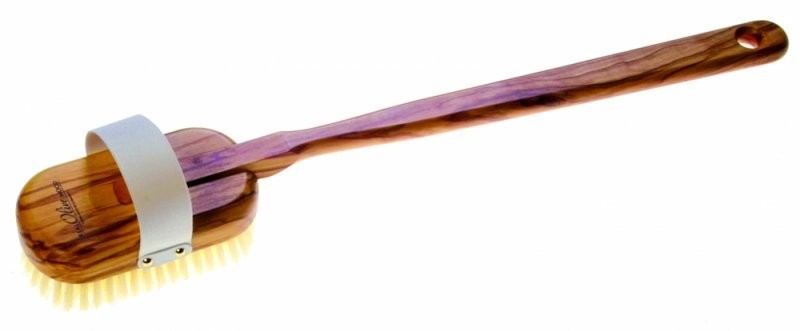 Do you want to take bathroom equipment to a whole new level? Do you like to return to years of proven materials and processing? This is exactly what the exclusive massage brush 180 25 02 from the German brand KELLER BÜRSTEN meets - a company that has been producing brushes for almost 150 years and thus combines historical experience and requirements for products in the 21st century.
This high quality brush is made of selected olive wood with a beautiful structure. Olive wood is one of the hardest woods in the world and there is no other wood with comparable hardness in Europe. KELLER only uses olive wood to make brushes when the tree is at the end of its life and no longer bears any fruit - making it extremely valuable and very suitable for product quality. The brush is equipped with light and strong natural bristles and an elastic strap. The 40 cm long handle fits comfortably in the hand. This product is designed for washing and gentle body massage.
Key properties:
excellent olive wood brush with removable long handle
light and strong natural bristles (selected quality) and with the strap of the EXCLUSIVE LINE series - CARE & WELLNESS
suitable for washing and gentle massage
material: high quality olive wood
length: 40 cm
Made in Germany
Quality hand brush KELLER 600 25 30
exclusive double-sided brush for hands and nails made of selected olive wood
very strong natural fibers
the upper fibers in 6 rows are radially grouped for a stronger effect during intensive hand cleaning
bottom threads in 8 rows
size: 90 x 45 mm
Made in Germany
High quality massage brush KELLER 200 25 76
exclusive massage brush made of olive wood of the EXCLUSIVE - LINE series
rubber flexible cushion with wooden shaped pegs for an effective massage effect
large header for easy holding
dimensions: 127 x 68 mm
Made in Germany
KELLER BÜRSTEN
The German family company Bürstenfabrik Keller GmbH was founded in 1869. It is one of the leading European manufacturers in the field. The company's experience is mainly reflected in the design of products, the selection of materials used and the composition of the range. In the wide offer you will find round wooden blowing brushes, flat wooden brushes with natural bristles, flat and round plastic brushes with polyamide. bristles. Keller reflects the demands placed on products in the 21st century with a greater customer orientation. The company's high priority is ecological and ethical principles, and since 2008 they have been FSC® certified.
Using brush
Material
Material
| | |
| --- | --- |
| With natural bristles | YES |
Material